Looking for Tennis and Racket Sports International News?
The RacketSTAR Tennis News Blog and Article Feed gives you up to the minute news and information about the Players and Sports Updates.
Ruthless Djokovic Claims Record Seventh Nitto ATP Finals Title
Novak Djokovic delivered a masterclass to defeat home favourite Jannik Sinner on Sunday in the Nitto ATP Finals title match. After a peerless performance, the 36-year-old now stands alone with a record seven crowns at the season finale.
The Serbian was at his very best in a 6-3, 6-3 win against the Italian, losing just two points in his first seven service games to surge ahead and then expertly navigating a tense close to the one-hour, 43-minute match.
"It's one of the best seasons I've had in my life, no doubt," Djokovic said at the close of a 55-6 campaign. "To crown it with a win against a hometown hero in Jannik, who has played amazing tennis this week, is phenomenal. I'm very proud of the performances these past two days against Alcaraz and Sinner, probably the best two players in the world next to me and Medvedev at the moment — and the way they have been playing, I had to step it up.
"I had to win the matches and not wait for them to hand me the victory and that's what I've done. I think I played different tactically than I did in the group stage against Jannik, and just overall it was a phenomenal week."
Djokovic was beaten by home favourite Sinner in the group stage but emphatically turned that result around in the final — a feat he also accomplished against Roger Federer at the 2015 season finale. Eight years later, the World No. 1 has broken a tie with the Swiss for most titles at the Nitto ATP Finals.
In the opening set against Sinner, Djokovic won 20 of 22 service points and landed 73 per cent of his first serves. He needed just 38 minutes to claim a quick-strike set.
Two loose errors from Sinner handed Djokovic the lone break of the set in its fourth game — though replays showed the miss that brought up break point clipped the baseline. Sinner did not challenge. The Serbian made just two unforced errors in the opener, with none off his forehand wing.
Sinner worked hard to give the Italian crowd something to cheer about, but Djokovic had the answers at every turn in a ruthless start to the match. Lengthy rallies were few and far between in the first hour of the match, with Djokovic playing so many points on the front foot behind pinpoint serving.
Wow‼️ @DjokerNole plays even better‼️

That is the highest #PerformanceRating score of any match of any player in 2023 ???#PerformanceRating combines #InAttack, #ConversionScore, #StealScore, and #ShotQuality to measure a player's performance over the course of a match… pic.twitter.com/BWThLxWtr6
— Tennis Insights (@tennis_insights)
November 19, 2023
The volume in the Pala Alpitour hit new levels when Sinner clawed his way to 15/40 for a chance to level the second set at 3-3. Sinner created his first break points by taking some big baseline cuts, aided by a brief dip from Djokovic, but the Serbian recovered with three big serves — two of them unreturned on the break points — and a well-constructed point dominated by his forehand to hold for 4-2.
Sinner then fought through eight deuces to stay within touching distance after a 16-minute hold, and he flipped the pressure back to his opponent by opening up 0/30 for the second straight return game. But again Djokovic responded, and he fittingly closed out the crucial hold with his 13th ace of the match.
It would be the Serbian's final serve of the championship, as a Sinner double fault ended the match in the next game. While the Italian raised his level to stress Djokovic down the stretch, his 17 forehand unforced errors saw him unable to sustain the form that saw him win build a 4-0 record entering the final.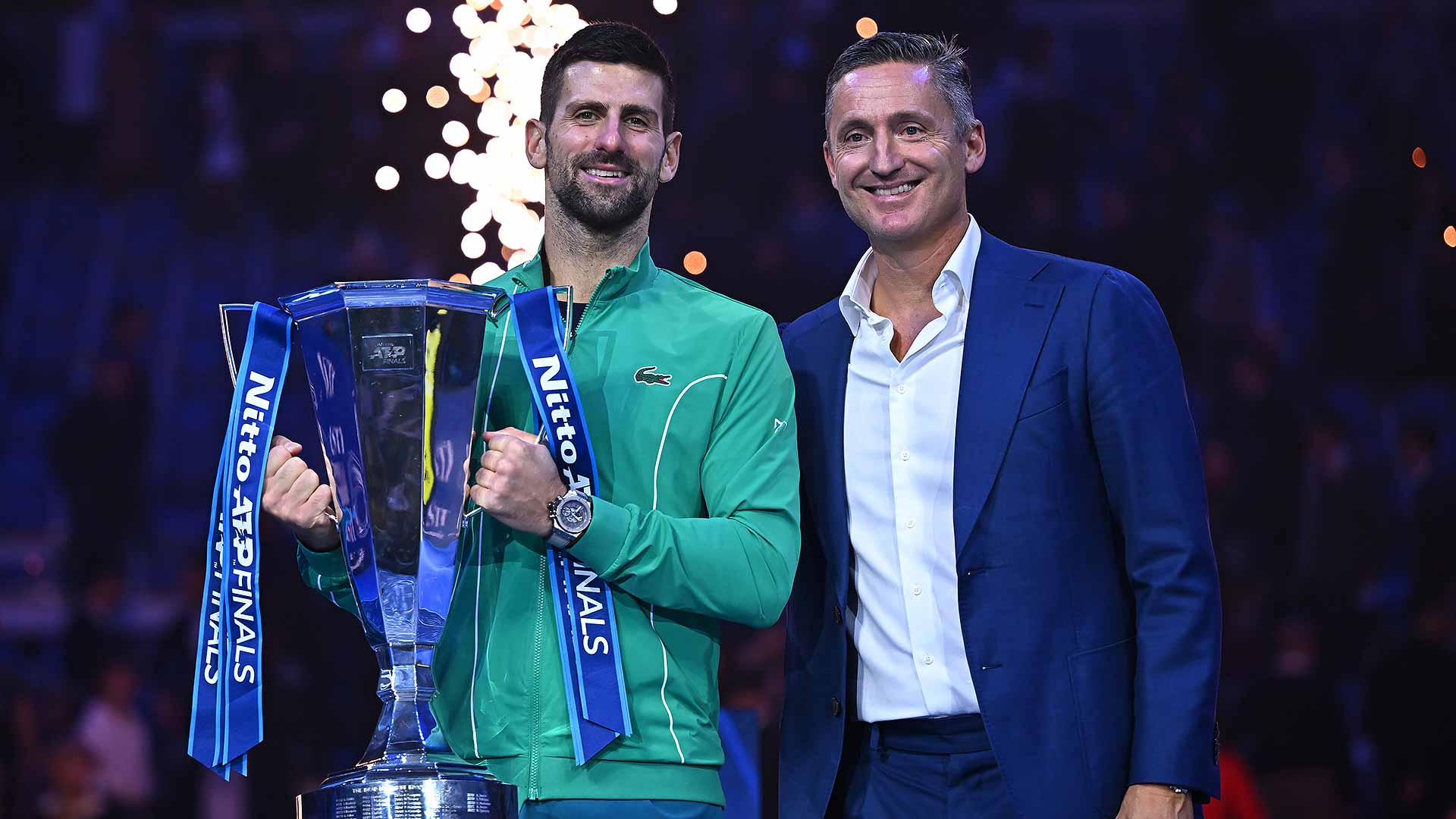 Novak Djokovic celebrates his seventh Nitto ATP Finals title with ATP Chairman Andrea Gaudenzi.
By handing Sinner his first defeat this year in Turin, Djokovic improved to 4-1 in the pair's Lexus ATP Head2Head. The 22-year-old is was the first Italian to reach the Nitto ATP Finals title match but was denied in his bid to become the youngest year-end champion since Stefanos Tsitsipas (21) in 2019.
Djokovic is now 7-2 in the Nitto ATP Finals title round, with trophies in 2008, 2010-11, 2014-15 and 2022-23. His reward for his latest triumph will be a record-extending 400th week atop the Pepperstone ATP Rankings beginning on Monday. Earlier in the tournament, Djokovic extended another precious record by clinching his ATP Year-End No. 1 presented by Pepperstone.
After claiming the title, Djokovic celebrated with his two young children who were seated courtside.
"They've been so good the past couple of days, watching tennis. It's a thrill," he said of playing in front of his son Stefan and daughter Tara. "I always wanted to perform in front of them once they reached the age when they are aware of what's going on. I think this is the age right now. They are both conscious of what is happening and I'm so grateful to be a father of these two wonderful angels. They blessed me with so much happiness and joy in my life. They give me strength."
Stay Informed
When you subscribe to the blog, we will send you an e-mail when there are new updates on the site so you wouldn't miss them.
---