Looking for Tennis and Racket Sports International News?
The RacketSTAR Tennis News Blog and Article Feed gives you up to the minute news and information about the Players and Sports Updates.
'I Had The Belief': One Year On, Zverev Reflects On Nadal Clash At Roland Garros
It may have lasted less than two sets, but Alexander Zverev's Roland Garros semi-final against Rafael Nadal still went down as one of the most gripping matches of 2022.
The Court Philippe Chatrier crowd had witnessed three hours and 13 minutes of absorbing action when Zverev badly rolled his right ankle and was forced to retire in agony when trailing 6-7(8), 6-6. It was an unfortunate end to the German's bold attempt to become just the fourth player to defeat ATP Tour great Nadal at Roland Garros.
"I went into that match, and I had the belief that I can compete, and played with it," Zverev told ATPTour.com last month. "That match was starting to get better and better, and my tennis started to get better and better, so it was a bit of an unfortunate time for me to get injured because I really felt like I was on top of my game."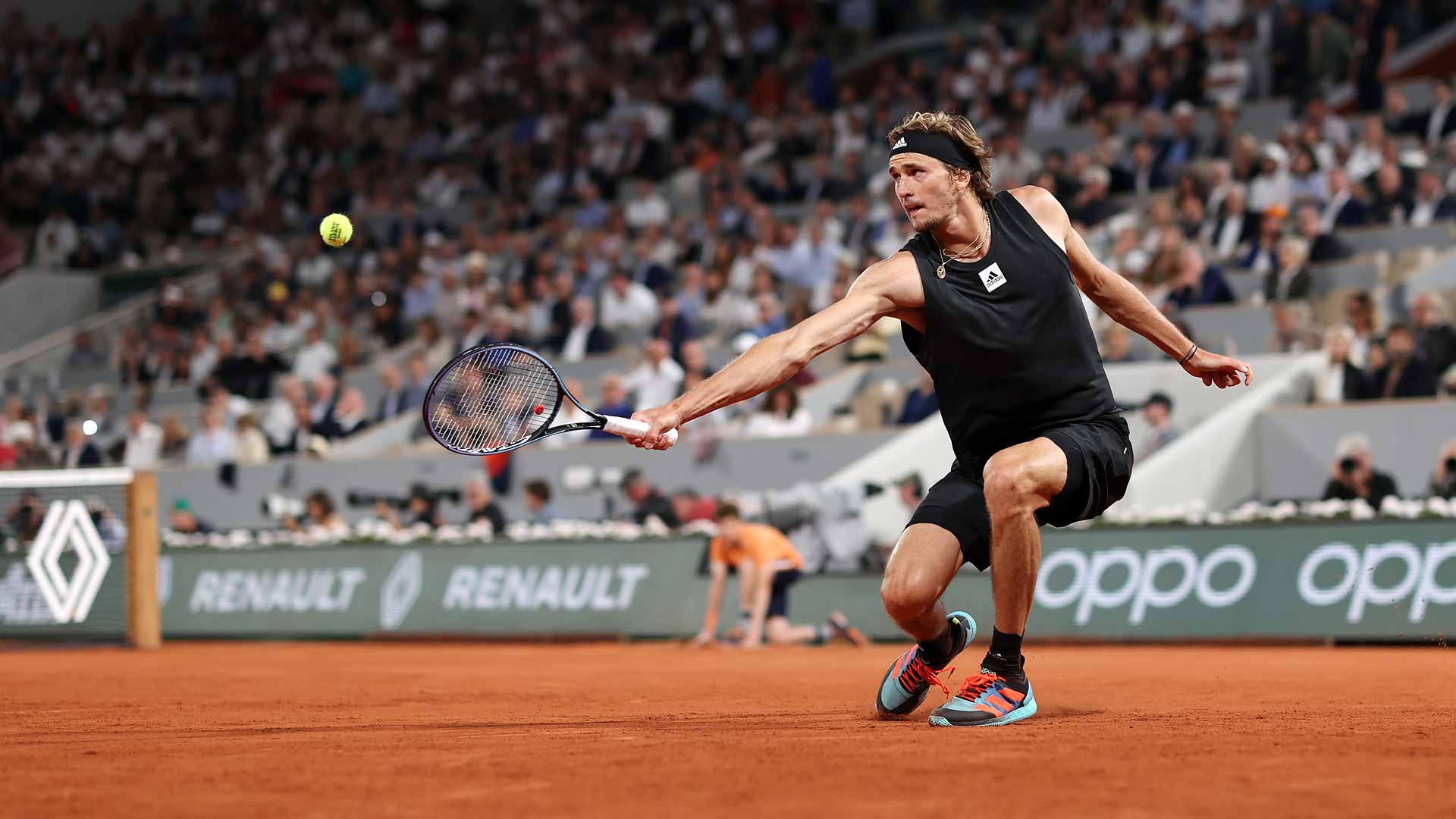 Zverev in action on a packed Court Philippe Chatrier. Photo: Ryan Pierse/Getty Images.
Zverev had come out firing in his bid to notch a first Grand Slam victory against Nadal. He led 4-2 in the first set before being pegged back by the Spaniard, who was chasing a record-extending 14th title at the clay-court Grand Slam. Even after letting slip four set points from 6/2 in the tie-break en route to losing the first set, the then-World No. 3 Zverev continued to dictate rallies with his heavy groundstrokes in humid conditions under the Court Philippe Chatrier roof.
"I was playing extremely well," recalled Zverev. "I felt the ball from both sides, I was playing aggressive. It's tough to pick one [specific] thing [I did well], but I think we were both at the top of our game.
"It was definitely quite difficult, physically. Especially some points in the second set. I think we were both tired. I did feel OK [just before] the injury happened, though. I was feeling like I was still able to compete, I was still able to run to all the things but of course, we had to maybe play three more sets. So of course, the match would have been very, very difficult, and physically as well."
Nadal went on to defeat Casper Ruud in the championship match in Paris, a victory that took his tournament match record to 112-3. Zverev showed no nerves at taking on an opponent who is renowned for dominating opponents on Court Philippe Chatrier.
"You know it's nearly impossible to win against him but still, in your mind, you need to believe that," said Zverev. "If you go on the court against Rafa, or against Novak [Djokovic] for instance, and you're thinking that you're not going to win, you might as well just stay home."
Zverev had torn all three of the lateral ligaments in his right ankle when moving to his right to chase down a Nadal forehand as the Spaniard forced a second-set tie-break. It was immediately clear he would have to retire from the match, and he later underwent surgery. The post-op recovery combined with a bone edema issue that arose in September meant he did not play another competitive match for the rest of the season.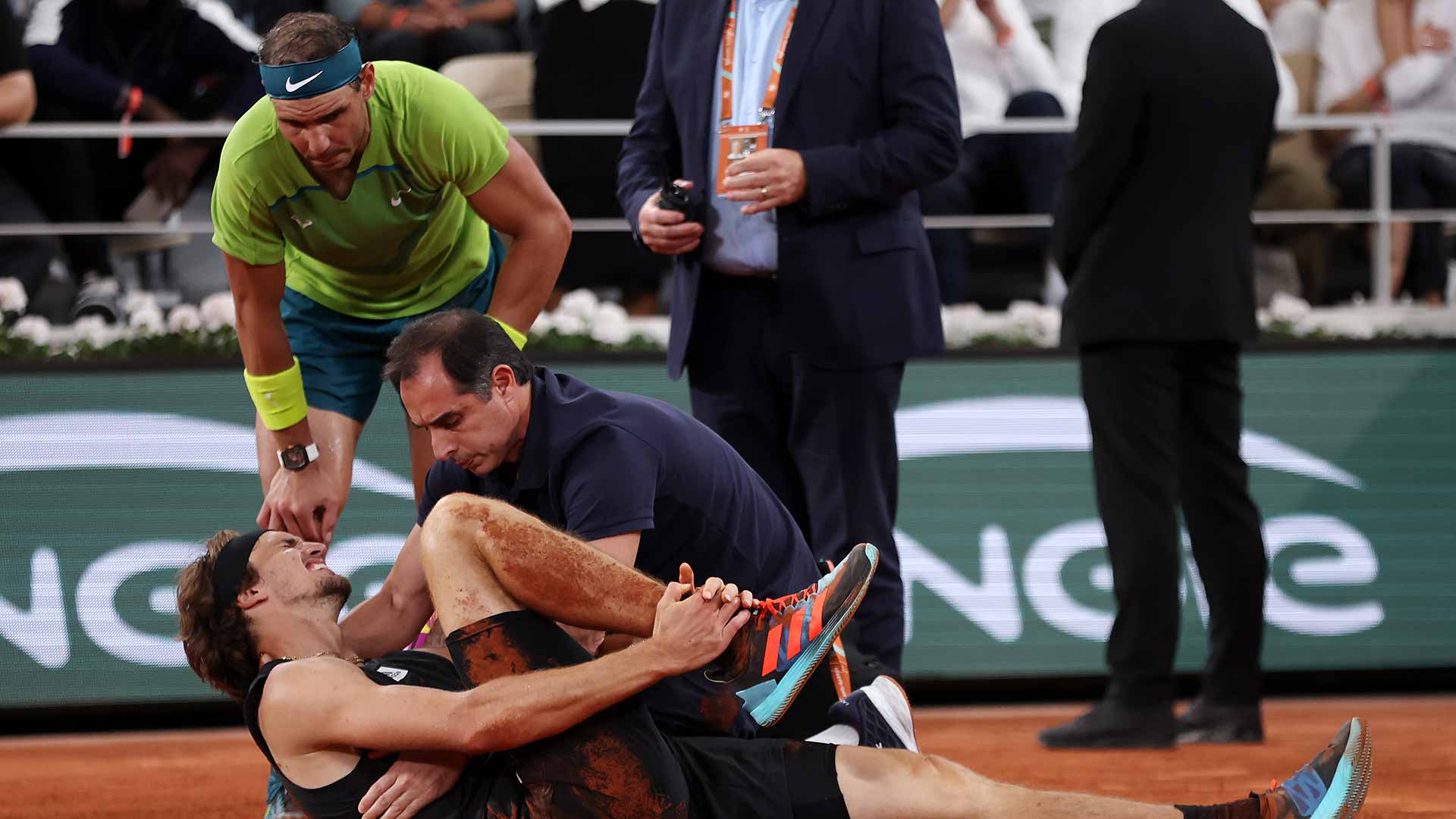 A concerned Nadal watches on after Zverev rolls his ankle. Photo: Getty Images.
Had Zverev defeated Nadal and gone on to lift his maiden major title at Roland Garros, he would also have reached No. 1 in the Pepperstone ATP Rankings for the first time. Five days after his surgery, he rose to a career-high No. 2, but his push to reach top spot was put painfully on hold.
"Of course, I prefer it not to happen, but it's part of your journey," said Zverev. "Sometimes there's things that you have no control over, and that was one of them. Of course, I would have preferred to keep on playing.
"Even if I lost the match, I had great chances to become World No. 1 in the next few months after that. Even with the injury, I still had a chance to become World No. 1 [due to other players dropping points], so it was funny. Of course I would have preferred to play Wimbledon, to play the US Open and play all the big events."
On Tuesday, Zverev returns to action at Roland Garros for the first time since his dramatic meeting with Nadal in a first-round clash against Lloyd Harris. While the memories of his misfortune in 2022 will always linger, the highs he hit in the two sets preceding his injury are a source of confidence for the 22nd seed.
"I think it was some of the best tennis that I've ever played," said Zverev. "I think he was playing an extremely high level as well, so the match was very interesting to be a part of.
"It's sad that it ended the way it ended, in a way, [but] there's some things that you have no control over in life. That was definitely one of them."
[NEWSLETTER FORM]
Stay Informed
When you subscribe to the blog, we will send you an e-mail when there are new updates on the site so you wouldn't miss them.
---