Looking for Tennis and Racket Sports International News?
The RacketSTAR Tennis News Blog and Article Feed gives you up to the minute news and information about the Players and Sports Updates.
Daniil The Dismantler: How Medvedev Magic Shut Down Rune's A-Game
Daniil Medvedev dismantles your game.
Playing your "A-Game" is next to impossible against Medvedev, who willingly absorbs your best punches and silently disrupts your winning patterns. Medvedev defeated Holger Rune 7-5, 7-5 in the Internazionali BNL d'Italia final on Sunday by dismantling Rune's strengths and finding another level at the end of both sets to secure victory. There were seven specific battles in which Medvedev managed to craft an advantage over Rune to capture his first clay-court title.
1) Medvedev Owned Ad-Court Rallies
Medvedev's primary baseline tactic was to make the match a backhand-to-backhand war of attrition through the Ad court. Medvedev's ultra-flat, uber-consistent backhand is almost impossible to do anything with.
Medvedev Backhand Placement
67% cross court 15% middle 18% down the line
Rune Backhand Placement
46% cross court 25% middle 29% down the line
Medvedev shoveled two out of every three backhands crosscourt, handcuffing Rune in baseline exchanges. Overall, Rune hit 108 backhand groundstrokes, which included 14 errors and three winners. Rune also hit 54 run-around forehands in the Ad court for six winners and six errors. The Ad court belonged to Medvedev.
2) Rune's Underperforming First Serve
Rune made a lowly 49 per cent of his first serves (33/68) for the match, only winning 52 per cent (17/33) of those points. Rune was broken four times, specifically due to these underperforming first-serve stats, but won a competitive 63 per cent (22/35) of his second-serve points. A key factor of Rune's low numbers behind his first serve was Medvedev's deep return position, where he regularly made contact six metres behind the baseline. Rune could not go through him, or around him.
Medvedev Return Hit Points vs. Rune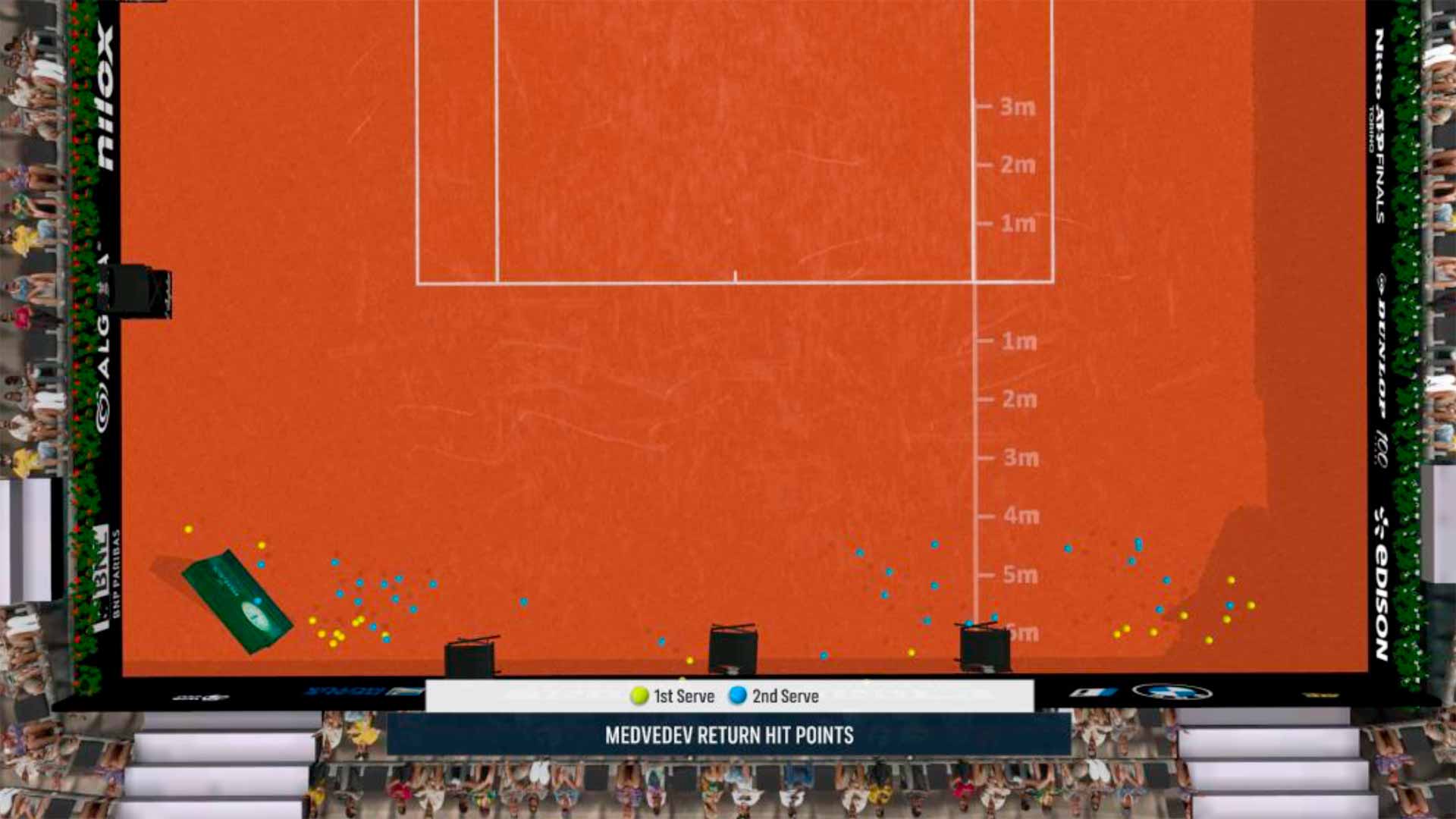 Hawkeye graphic courtesy of ATP Media
Medvedev consistently put Rune on the back foot at the baseline after a first serve, or landed it at his shoelaces as he attempted to serve and volley. Medvedev directed 81 per cent of his first-and-second-serve returns to the middle and backhand thirds of the court, trying to immediately enter into an oxygen-depraving backhand-to-backhand rally against Rune.
3) Rune Serve & Volley
Serve and volley is a natural counter-attack against a deep returner, but with Rune landing less than half his first serves, the tactic always felt dangerous in this match. Overall, Rune won seven of twelve serve-and-volley points, but was even in the second set with three won and three lost. Medvedev did a masterful job of mitigating this potentially damaging tactic.
4) Rune Drop Shots
Drop shots are a classic secondary tactic on clay that compliment a strong primary pattern of play, such as initially pushing your opponent deep behind the baseline before yanking them forward. Rune hit 10 drop shots in the match, with eight coming from his backhand wing. He only won four of ten, and they failed to disrupt Medvedev's baseline patterns.
5) Net Points Won
Rune came to the net a healthy 26 times in the match but only managed to win 50 per cent (13) of those points. Medvedev countered by winning 13 of 20 (65 per cent) at net, providing another strategic victory.
6) Baseline Points Won
The primary pattern of play of blasting groundstrokes back and forth over the Roman red dirt was easily won by Medvedev.
Medvedev=53% (39/74) Rune=43% (29/68)
Rune hit 131 forehand groundstrokes for the match, but Medvedev absorbed the punches like a true clay-court heavyweight. Rune struck nine winners with his forehand but contributed 17 errors as Medvedev consistently absorbed and repelled Rune's forehands.
7) Court Position
Medvedev Court Position
Inside Baseline=23% Within 2 Metres Of The Baseline=44% Past 2 Metres=33%
Rune Court Position
Inside Baseline=21% Within 2 Metres Of The Baseline=45% Past 2 Metres=34%
Surprisingly, Medvedev played slightly more inside the baseline than Rune while at the same time not standing in the ultra-deep baseline location quite as much.
Medvedev's first clay-court title came from playing solid tennis on his side of the net and forcing Rune to play his "B-Game". What a wonderful way to spend a Sunday afternoon.
Stay Informed
When you subscribe to the blog, we will send you an e-mail when there are new updates on the site so you wouldn't miss them.
---