Rafael Nadal confirmed his participation at the Nitto ATP Finals in London.
In his interview for EFE, Rafael Nadal confirmed his participation at the Nitto ATP Finals in London.

Nadal: "I come to London to try to win the Masters"
Q. How is the knee?
Rafa: "The knee is well & hope it'll be OK. We've been working hard to recover it & now it's the time to test it. We'll practice at O2 to see how it goes in the next few days."
Q. Is your participation in the ATP Finals certain?
Rafa: "In life there are few sure things, unfortunately only one. But if I'm here in London it is to play. Otherwise I'd not have come & be extending the season if I didn't think I can be competitive & ready to play...
...I'm here to try to win the tournament. That's my hope and motivation, and I'm working for it to happen."
Q. The ATP Finals is the only big tittle missing in your CV. Are the defeats in the 2010 & 2013 Finals an extra motivation?
Rafa: "Neither defeats nor victories give me more motivation. What happened in the past has no influence on what will happen this year and my motivation in each tournament I play is to give my all and try to perform as best as possible. Sometimes it goes better than others, but when I go out to play tennis in any tournament I always try to give my best."
Translated by Genny SS
Source: AS
• Interview for Sky Sports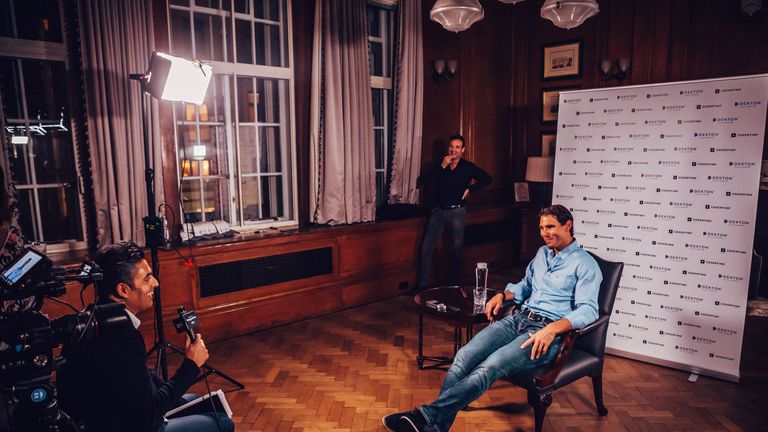 "Hopefully the knee is good," Nadal said in an exclusive interview. "I've done everything I've needed to do in order to get ready for London. Now it's the moment to wait and practice at the O2 over the next couple of days. Let's see if I am able to be 100 per cent to compete.
"If nothing happens, then I will play. I visited my doctors after the Paris Masters - it was a tough day for me having to pull out of Paris. Pulling out of any tournament in the world is tough, but pulling out of the city of Paris is especially tough for me.
"That's how it is. I went back home and visited the doctors to do some treatment. I expect the treatment to work and be ready for here.
"I know I'm confident because I'm having a great season with one event to go. I am here to try my best.

"If I believe I cannot do that [play] then I would not be here. I am here to try and win the tournament," said the 31-year-old.
"You're on the World Tour Finals, you cannot expect an easy group. All the matches are so difficult so you need to be ready from the beginning."
"My dream is to win the tournament, and if I play Roger in the final then my chances are less than playing another player. But I would love to play in the final and if I play Roger then I will try my best to beat him," Nadal added.
"It's true that I play Roger every time this year on the surfaces that are better for him, but I will just fight to win my first match of the year against him."
Related Posts
By accepting you will be accessing a service provided by a third-party external to https://www.racketstar.com/