Looking for Tennis and Racket Sports International News?
The RacketSTAR Tennis News Blog and Article Feed gives you up to the minute news and information about the Players and Sports Updates.
Challenger Rise Fuels Piros: 'I Can Play This Level'
Hungarian Zsombor Piros has been one of the hardest players to beat on the ATP Challenger Tour this clay-court season. The 23-year-old won back-to-back Challenger titles in April at the Split and Oeiras Challengers and this week looks to qualify for his maiden major main draw at Roland Garros.
If Piros is not competing on court, you can find him creating memories with friends and family or playing football, darts, and card games. The Hungarian may even recollect a magic trick he learned as a teenager.
"When I was 14, I had a good two or three years doing magic tricks. I was very obsessed with it," Piros told ATPTour.com. "I'm not doing that obsessively like a few years ago, where I would learn for two or three hours a day, card tricks, coin tricks, ring tricks, mental tricks."
While a series of magic tricks could have left Piros' friends with their jaws dropped, it was a 10-match winning streak for the loss of just one set that left the World No. 125 surprised in April, when he captured back-to-back Challenger titles in Split, Croatia and Oeiras, Portugal.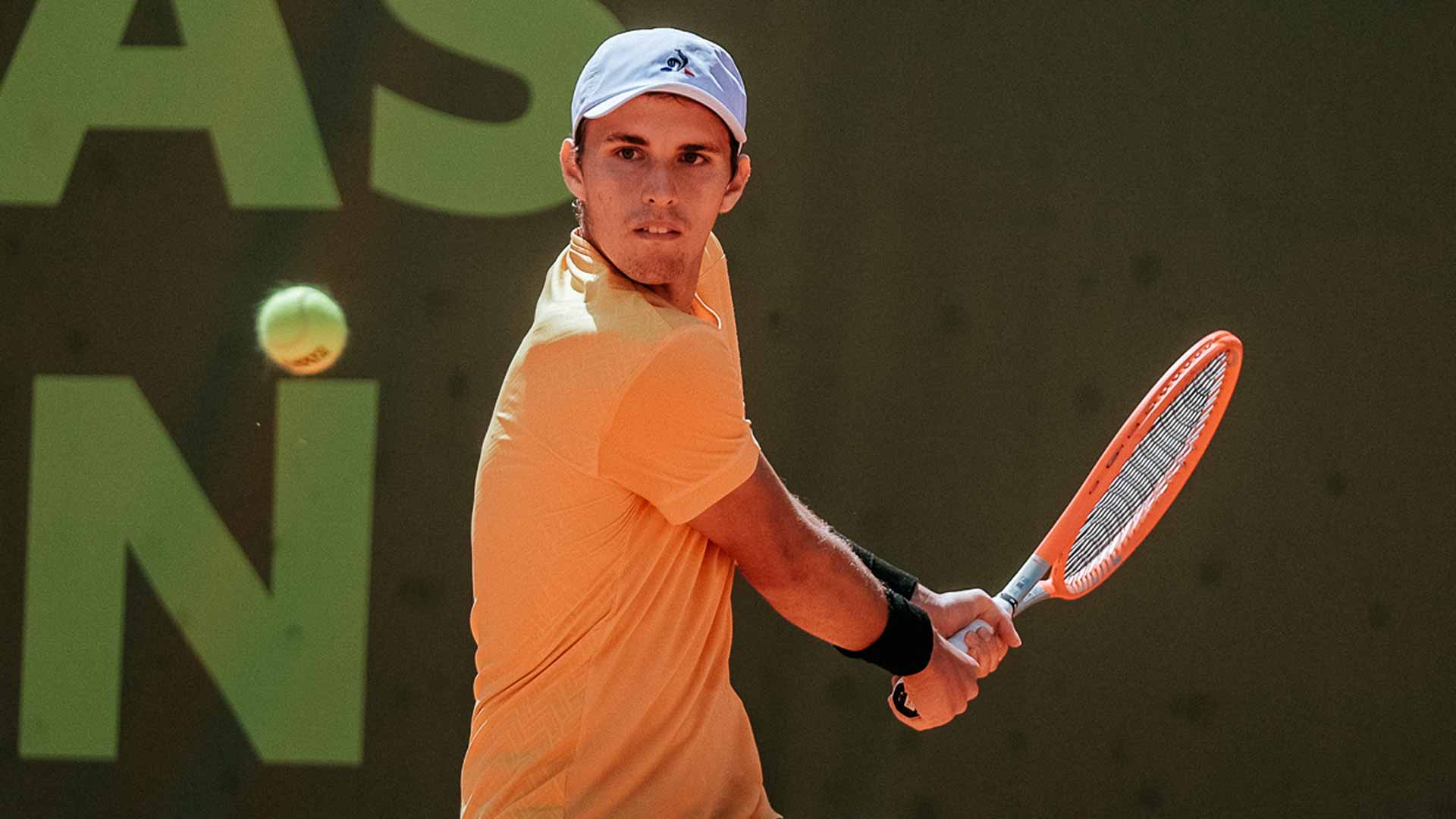 Zsombor Piros defeats Juan Manuel Cerundolo in the Oeiras Open 3 final. Credit: Sara Falcão/FPT
"I'm speechless honestly, I've never won this many matches in a row at this level," Piros said in Oeiras after winning the title. "I actually surprised myself with these results. I think the second step is just believing I can play this level and not to think it happened just once. It [will] give me big confidence for the future. I have some great memories on court, but I think this is the most important [one] now. It's the most special."
Piros is not the only 23-year-old Hungarian on the rise this year. Fabian Marozsan, who was born five days before Piros, upset World No. 2 Carlos Alcaraz last week at the ATP Masters 1000 event in Rome.
Marozsan, World No. 115, and Piros grew up together and partnered to represent their home country in Davis Cup doubles action against Australia in 2021.
"We are practising together in the same place, we grew up together going to all the tournaments in Hungary and all of Europe," Marozsan said of his countryman.
One of Piros' most memorable moments came when he was a teenager, travelling to the biggest venues in the sport for junior Grand Slam events.
The Budapest native went on a dream run to win the 2017 Australian Open boys' singles title. He became the second Hungarian male to win a junior Grand Slam title, joining Marton Fucsovics, who won the 2010 Wimbledon boys' singles crown. The Melbourne memory still fills Piros with excitement.
"It was one of the most powerful emotions for me. Even now when I remember [it], I have goosebumps," Piros said. "Hundreds of Hungarians were there, singing songs for me… I almost played the qualifying for that tournament and I was almost the last one in the main draw, so we expected one or two wins.
"But then for weeks I didn't realise I had just won a Grand Slam, even though it was just a junior title. It's still one of the best emotions I've ever experienced on the tennis court. It's still very close to my heart."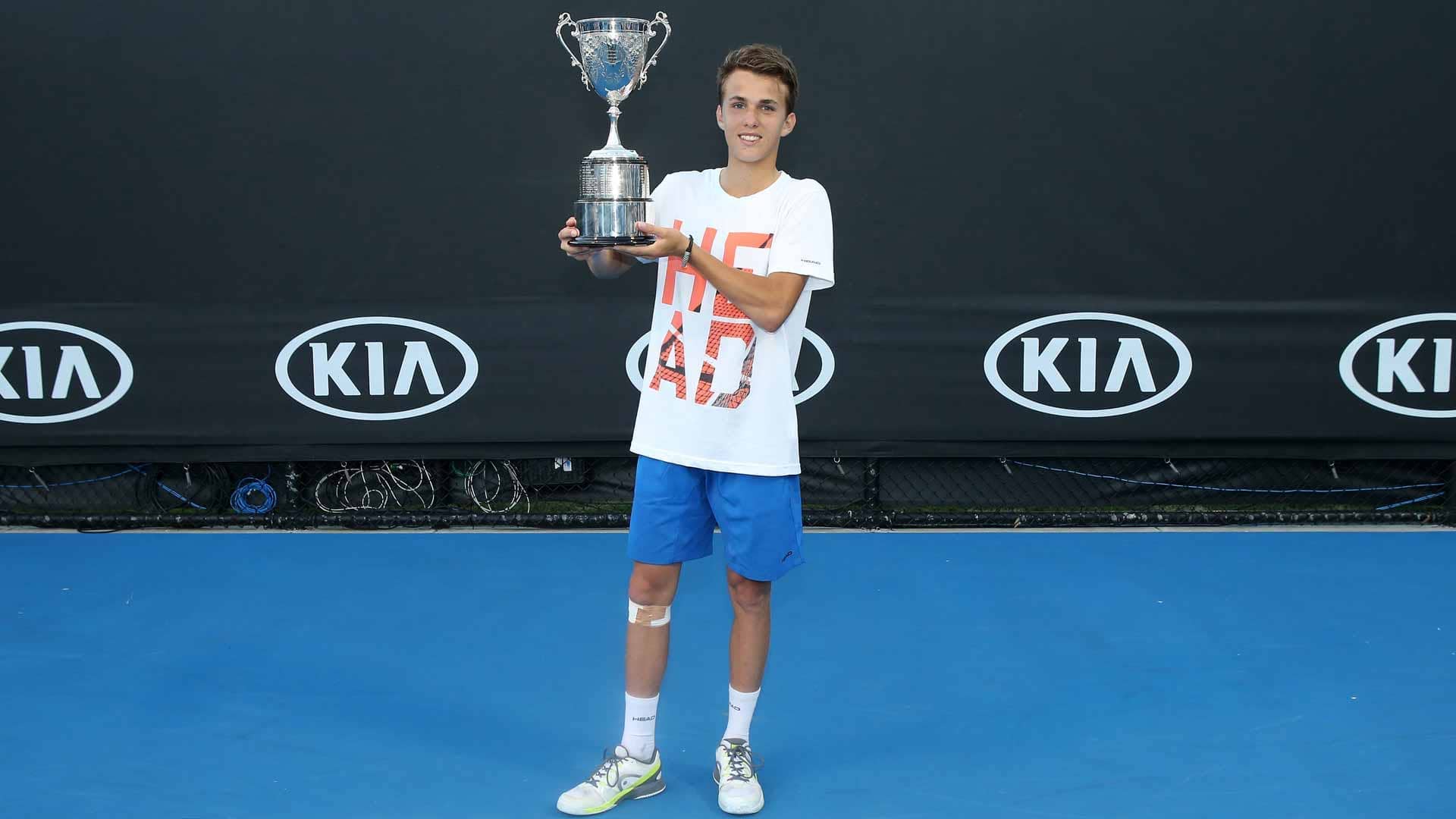 Zsombor Piros earns the 2017 Australian Open boys' singles crown. Credit: Pat Scala/Getty Images
Around the time he triumphed in Australia, Piros was hooked on darts. He would sometimes throw 800 to 1,000 darts a day. But that quickly came to an end when he realised his shoulder was so stiff the following day that he struggled to serve.
Since winning his junior title in Melbourne, Piros has been developing his game on the Challenger Tour. His hard work has reaped four Challenger trophies within the past year.
"I think I've played like 70 Challenger tournaments," Piros said. "I think there is a big difference from Futures to Challengers, especially the mentality. Everybody's nonstop in the gym, having everything on the court like new racquets, everything professional.
"You have to give 100 per cent for every shot, being there and fighting for every point, otherwise you can't be successful at this level. Every point counts. Sometimes if you show bad emotion for just a few points, it can be the end of your tournament. It's a very tough level."
Piros hopes to find more success this week in Paris, where he is seeded 13th in the Roland Garros qualifying draw and will meet Dominik Koepfer in the opening round.
[NEWSLETTER FORM]
Stay Informed
When you subscribe to the blog, we will send you an e-mail when there are new updates on the site so you wouldn't miss them.
---